A three hour PosctardsFromSpace Author Workshop is available, free of charge, to all schools purchasing the full schools package (schools will need to cover travel expenses). Delivered in-person by Miles Hudson, physics education expert.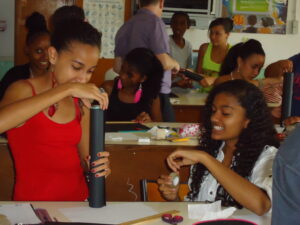 The workshop can adapted for students in any age group from 8 to 18 years old. The outline below is for upper primary.
Schools workshop outline
2x workshop sessions, 90 minutes each

,

Including open-ended Q&A.
Hands-on activities, including making telescopes and star wheels.

With some materials emailed through beforehand.

Some materials will need to be printed out for use in the sessions or later.
Session details
Session 1 – Making telescopes
How do telescopes work and why do we use them?
The children measure the focal length of lenses, in order to work out how large to make their telescope.
Small groups, in competition to build the telescope with the clearest image.
What are the differences between our telescopes and professional ones? where are the biggest telescope in the world?
Session 2 – Our Solar System and Beyond
What's in our solar system? interactive presentation of objects in space, children devise or remember a mnemonic for the names of the planets.
What are PostcardsFromSpace? Explanation of the story idea and characters.
How do we find aliens? Explanation of the science of searching for life elsewhere. Read along with the story on the PostcardFromMars.
Explanation of constellations and the children make a constellations finder map.
Exoplanet Search: Explanation of the NASA missions searching for exoplanets and how they find them. Could exoplanets have aliens?
How could we communicate with aliens? Read through of the exoplanet Postcard.
Talking to aliens: radio and picture messages. Picture puzzle activity and introduction to Breakthrough Junior Challenge.
Children's mission: Miles sets a post-workshop activity.